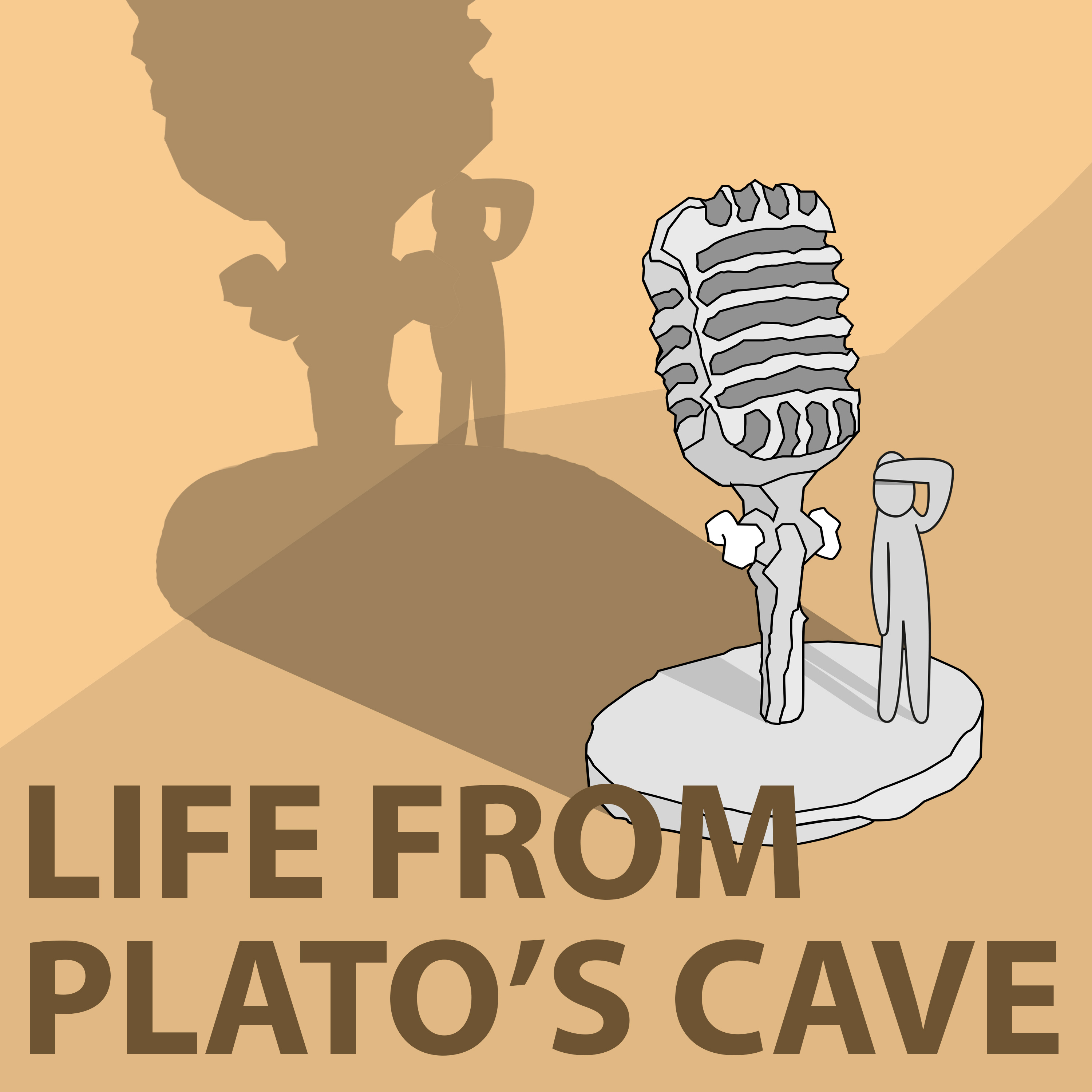 A course in interdisciplinarity by Mario Veen. In each episode I travel through Plato's Allegory of the Cave together with a guide. Together, we examine the question of what it means to learn, grow and develop in life on earth. We do so from a new perspective every time. You can use this course to study whatever interests you through the lens of philosophy, film, art, physics, spirituality and many more. All you need is the willingness to think things through and the openness to have your preconceived notions challenged. lifefromplatoscave.com
Episodes
Tuesday Feb 02, 2021
Tuesday Feb 02, 2021
In Plato's Cave, the prisoners start out being limited to only one perspective, one way to look at life. But they turn around and go on a journey, where they encounter images that challenge what they have always believed about who they are and how the world works. In this episode, we will look at the way we can look at the world from different angles. We discuss how art can not only help us do that, but is in fact
necessary
and
urgent
. How can image-thinking bring new ideas into society? Is it necessary to have a clear identity? What is the role between madness and invention? I spoke about these and other questions with
Mieke Bal
.
About Mieke Bal
Mieke (
www.miekebal.org
) started as a literary scholar. Her commitment is to interdisciplinary approaches to cultural artifacts and their potential effects. She focuses on gender, migratory culture, psychoanalysis, and the critique of capitalism. Mieke published over fourty books, curated many exhibitions. She directed films and documentaries, many of which are exhibited as video installations in museums over the world. Her books include a trilogy on political art. The titles of these books are
Endless Andness
,
Thinking in Film
, and
Of What One Cannot Speak
. They demonstrate her integrated approach to academic, artistic and curatorial work. This year she has new books coming out, including a book called
Image-Thinking
, a term she coined and which we will discuss later on. Mieke has had a long academic career and supervised 80 PhDs, with the 81st currently underway.
Mieke did not just limit herself to teaching, research and theoretical development. She (co-)made documentaries on migratory culture, and films which she calls 'theoretical fictions.'
A Long History of Madness
argues for a more humane treatment of psychosis, and was exhibited in a site-specific version,
Saying It,
in the Freud Museum in London.
Madame B
was combined with paintings by Edvard Munch in the Munch Museum in Oslo.
Reasonable Doubt
is about the philosopher René Descartes and explores the social aspects of thinking. The installation
Don Quixote: tristes figuras
is exhibited as a sixteen channel video work.
Becoming Vera
is a documentary about a girl who is "three years old. Living in three worlds". Her latest film, It's About Time! Reflections on Urgency was produced in Poland (2020), just before the corona pandemic. It's a short film and
you can watch it in full on Mieke's website
. Her exhibition
Art out of Necessesity in
the museum Jan Cunen in Oss unfortunately was cut short because of the corona pandemic, but there is
a Dutch book
about the exhibition and you can find some short video's about the exhibition
here
. 
I hope you enjoy our discussion!
Mario