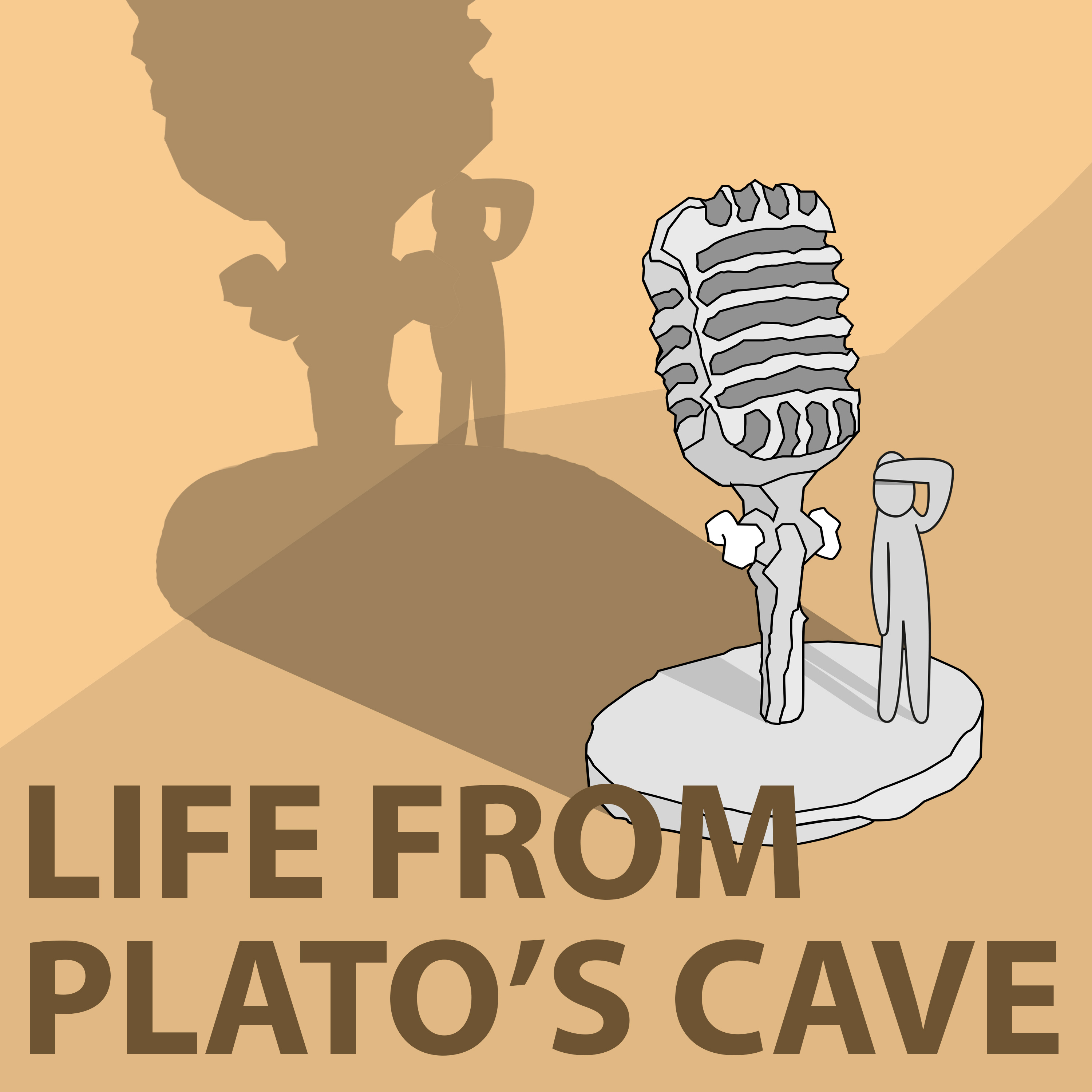 A course in interdisciplinarity by Mario Veen. In each episode I travel through Plato's Allegory of the Cave together with a guide. Together, we examine the question of what it means to learn, grow and develop in life on earth. We do so from a new perspective every time. You can use this course to study whatever interests you through the lens of philosophy, film, art, physics, spirituality and many more. All you need is the willingness to think things through and the openness to have your preconceived notions challenged. lifefromplatoscave.com
Episodes
Saturday Mar 13, 2021
Saturday Mar 13, 2021
Plato's description of the Cave is kind of like a cinema: an audience watching shadows on a screen, projected by a fire behind them. Have you ever felt like your life is a film? Have you noticed how many films have incorporated a Plato's Cave theme - The Matrix, Inception and The Truman Show, just to name a few? How can we learn from film, especially in this time when we are watching so many series and films?
Our guide for this cinematic journey through the Cave is Masha Bronnikova.
About Masha Bronnikova (aka Mab'by)
Masha initiates and joins inter-disciplinary projects around The Netherlands. She is a poet and performer, she is a cultural producer and a connector. Masha works with platforms such as OT301 Studios, DNK-Amsterdam, Stingerbol and The Bookstore Foundation. 
To avoid any spoilers, please watch all of these films prior to listening to the episode:
Stalker (1979), Be Natural: The Untold Story of Alice Guy-Blaché (2018), Arrival of a Train at La Ciotat (1895), The Fairy of the Cabbages (1896), Cave of Forgotten Dreams (2010), Nostalghia (1983), The Sacrifice (1986), Once Upon A Time in Hollywood (2019), The Violent Heart (2020), Waking Life (2001), WandaVision (2021), Star Wars (1977), Frozen (2013), Soul (2020), The Matrix (1999), Blade Runner (1982), Interstellar (2014), I, Robot (2004), Dark City (1998), The Maze Runner (2014), The Hunger Games (2012), Inception (2010), The Truman Show (1998), To All The Boys: Always and Forever (2021), Transformers: The Last Knight (2017), The Bone Collector (1999), Escape From New York (1981), Escape from Alcatraz (1979), Slumdog Millionaire (2008),  The Irony of Faith (1976), 2001: A Space Odyssey (1968), A Clockwork Orange (1971),  Independence Day (1996),  The Birds (1963), King Kong (2005), The Avengers (2012), and last but not least, Orlando (1992).
These are some of the scenes we mention: